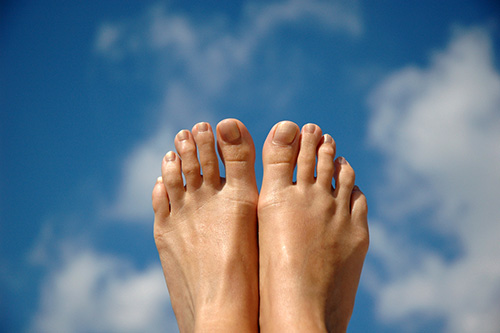 Try to NOT walk barefoot if at all possible. Hot concrete and sand can easily burn the bottoms of our feet. And there's no telling where you might pick up an icky case of athlete's foot or ringworm (even the ritziest hotels, pools, and country clubs aren't immune to these things). Wear flip flops in the communal shower areas, and even in your hotel room (if on vacation) – it's better to be safe than sorry, right?
Sunscreen, sunscreen, sunscreen! One of the "top five" places that people forget to apply sunscreen is their ankles and the tops of their feet. Take the extra minute to slather some on those areas, too – we promise you won't regret it!
Going to be sitting for an extended period of time during your travels? Make sure to periodically wiggle your toes, flex your ankles, and stretch your calves to keep blood flowing.
If you're going to be participating in certain aquatic activities – which can range from kayaking to river hiking to climbing through waterfalls – make sure that you've got the right footwear for the adventure at hand.
Should you injure your foot and/or ankle – be it while at home or away on vacation – make sure to seek medical attention as soon as possible. If you're out of town, give us a call to schedule a follow-up appointment upon your return so that we can make sure everything is healing properly and that no other treatment/intervention needs to occur.
And, finally – make sure that your first aid kit is foot friendly! This means making sure it's stocked with things like blister pads, toenail clippers, emery board(s), bandages, and antibiotic cream (just to name a few). If you'll be going through airports, pack your regular shoes and wear flip flops instead – they're so much easier to get on/off at the security check points!
That's all we have for you today! If you're having any foot or ankle trouble, give Prairie Orthopaedic a call and schedule an appointment. We'll do our best to get you back on your feet in no time flat!