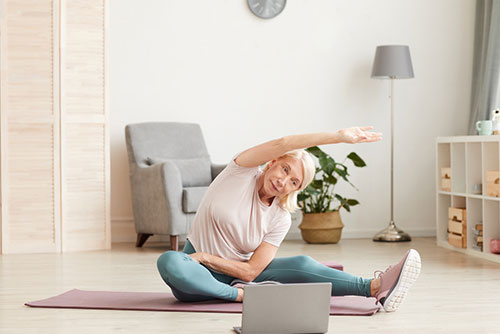 In the matter of months, our lifestyles have changed dramatically because of COVID-19 – and our workout routines were no exception to that change. With stay-in-place orders and social distancing, it has made it difficult to stay active. But, we are here to tell you that you need to keep your body moving no matter the circumstances! Even the Centers for Disease Control and Prevention, recommends exercising for 150 minutes a week (a.k.a. 30 minutes for 5 days a week).
According to a Cambridge Open Engage study, during the pandemic, Americans are exercising less than normal and are looking at their screens more than usual. Even those who had a regular exercise routine before COVID-19 reported 30 percent less physical activity during social distancing. In many cases, less exercise showed signs of worsening mental health.
Benefits of exercising
Exercise is essential to your physical and mental health – especially during challenging times like these. Overall, exercise is known to boost your well-being, but here are a few more reasons why you should make time for exercise on a regular basis:
Boosts your immune system – with more circulation, immune cells can move through your body faster and at a higher rate
Reduces stress and anxiety – physical activity produces more endorphins, which are your brains feel-good neurotransmitters
Improves sleeps – you will use up more energy as you exercise, which will leave you tired and ready to sleep at the end of the day
Restores your focus – exercise helps builds the brain's ability to ignore distractions and regain your focus
Prevents weight gain – keep your body moving to burn the calories that you put on each day
Exercise is beneficial for those with chronic health conditions, too. However, it is important that you consult your doctor before beginning any new exercise routine, so they can recommend exercises that are safe for you and your condition.
Ways to stay active
We know that it can be tempting to skip your typical workout, so here are a few other ways that to stay active:
Exercise as a family – Something as simple as taking a family walk can be enough to get your blood flowing. Some additional ideas are going for a bike ride, playing catch, or having a dance party in your living room.
Take a virtual class – No need to leave your house for a fitness class – class can come to you! Some of our favorite virtual classes we've seen offered are yoga, boxing, and salsa dancing.
Get outside – Thankfully when out in the great outdoors, you have plenty of space to keep your distance from others. Try hiking, swimming, kayaking, or biking for a fun outdoor adventure.
Challenge yourself – Have you gotten your steps in for the day? Set a reachable goal and make yourself accountable. Something as simple as stretching everyday, exercising for 10 minutes everyday, or striving for 6,000 steps everyday. Frequently monitor your goals and increase the difficulty as your habits improve.
Do chores – Mowing the lawn and washing the car seem like ordinary chores, which they are, but they also double for a great workout. Not only do you get the benefit of burning calories, but you get the pleasure of crossing off a task from your to-do list.
At Prairie Orthopaedic & Plastic Surgery, PC., we encourage you to stay active! As you make exercise a part of your everyday routine, you will notice the benefits of your health and well-being. When starting up again, give your body time to adjust and don't push yourself too hard. In any case, if you experience upper or lower extremity pain or injuries, please schedule an appointment with us at or at https://www.prairie-ortho.com/.