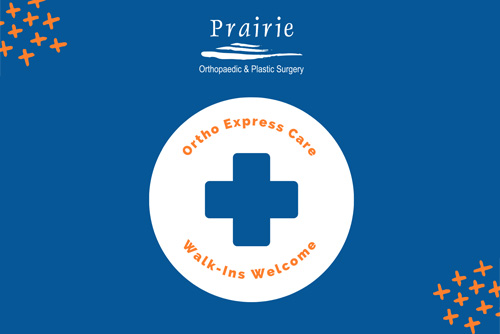 There's no need to wait for an appointment when you have an orthopaedic injury. Our Ortho Express Carecenter is here to help. We offer convenient, walk-in care for all types of orthopaedic injuries, so you can get the treatment you need right away.
Our Services
We have a team of experienced physician assistants and orthopaedic specialists who are ready to help you with any orthopaedic injuries you may have. We offer a wide range of services.
We treat the following:
Sprains & strains
Broken bones
Closed fracture (where the bone does not break the skin)
Sports-related orthopaedic injuries
Cast or wound dressing issues
Recently painful, swollen, or injured joints
Cuts and lacerations
Foot and ankle injuries
Hand and wrist injuries
Shoulder injuries
Knee injuries
We do NOT treat the following
Injuries not of an orthopaedic nature
Neck and low back pain and strains
Open fractures (where the bone is protruding from the skin)
Head or facial trauma
Partial or full amputations
Immediate care after a motor vehicle accident
Chest injuries
Our Promise
We provide fast and convenient orthopaedic care for patients of all ages. We offer the latest treatments and technologies, so you can get back to your life as soon as possible. Our PAs are
here to answer any questions you may have and to make sure you are comfortable with your treatment plan.
Closing Thoughts
Our Ortho Express Care center is open Monday-Friday, 8:00 am-4:30 pm. We are located at 4130 Pioneer Woods Drive Ste 1, Lincoln, NE 68506. To request a time slot, please fill out the form at the end of this link:
https://www.prairie-ortho.com/ortho-express-care-orthopaedic-plastic-surgeon-ne/
Thank you for choosing our Ortho Express Care center. We look forward to helping you with all of your orthopaedic needs.