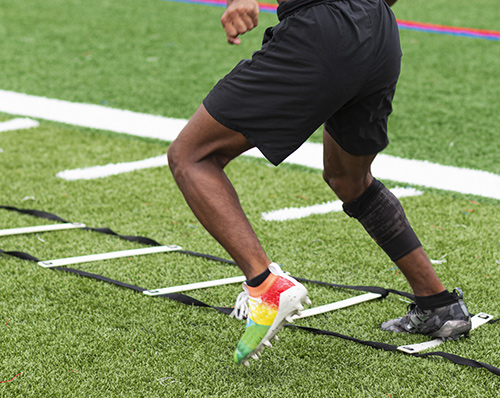 The team here at Prairie Orthopaedic & Plastic Surgery, PC is all about preseason training. As spring sets in, this is the prime time for athletes to prepare for their summer season. No matter the sport, age, or level of athletics, we highly encourage all athletes to participate in a preseason training program. In this blog, we will take a look at what preseason training is, what the benefits are, and how to get the most out of it.
What is Preseason Training
Preseason training is a training program that occurs prior to the actual sports season, typically a month or two before practice starts. The purpose of training is to allow athletes to improve their skills, reduce the risk of an in-season injury, and enhance their overall fitness. In most cases, athletes will have taken an offseason to rest both physically and mentally, so preseason training can get them back in shape before the season starts. It can be thought of as a transition period to help athletes ease from low to high-intensity training.
Benefits of Preseason Training
• Improve Skills – Preseason training is a great time for athletes to sharpen their skills. Doing drills and exercises that are sport-specific can help an athlete improve their mechanics that are needed to be a successful athlete — such as form, control, accuracy, speed, and so on.
• Reduce the Risk Injury – It's not unusual to see an increase in injuries in the first couple of weeks of practice. Injuries like sprains, strains, or even heat-related illnesses are quite common. According to the British Journal of Sports Medicine, implementing strength and conditioning programs could reduce sports injuries to less than one-third, and overuse injuries can be almost halved. Training allows athletes to gradually get back into their sports rather than putting tremendous pressure on their bodies once the season begins. It strengthens the muscles around joints, which reduces the risk of injury.
• Enhance Overall Fitness – Training allows athletes to build a solid fitness foundation. These programs can help athletes re-engage and activate their bodies in physical activity after taking some time off. Special training can enhance overall fitness by improving endurance, strength, balance, and flexibility.
• Bonus: Not only will preseason training help an athlete improve individually, but when done as a team, it can be a good opportunity to build camaraderie between teammates before the season starts.
Examples of Preseason Training
The experts of Prairie understand the importance of being at the top of your game. To help athletes do so, we've created a preseason template so that athletes can safely pace themselves back into their sport. Implementing this training into your own routine enables you to achieve optimum performance once it's game time.
You can view our complete Preseason Training Program here.
Tips for Preseason Training
When it comes to preseason training, it's easy to either get very discouraged or pushed to the limit. Don't let that happen. Here are some tips to help you succeed during training:
• Begin at your own baseline – Start with your own body weight exercises and individual movement patterns
• Don't go too hard too fast – Progressively increase strength and intensity of training
• Doing more is not always better – Listen to your body and be aware of when it's time to ease up and rest
• Access skill and fitness at the beginning and end of the training – Has training had a positive impact on your athletic performance?
Closing Thoughts
Preseason training is just as important as in-season training. As you've learned, it can help improve an athlete's skills, fitness, and reduce the risk of injury. The experts at Prairie Orthopaedic & Plastic Surgery, PC can help prepare athletes for their upcoming seasons by helping establish a routine, or in an event of an injury, we can help restore function and get them back to their active lifestyles. To schedule a consultation with us, please call 402-489-4700.