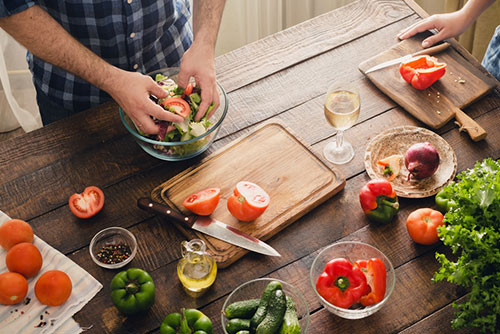 Who's ready for a fresh start in 2021? Losing weight and dieting are some of the most common resolutions nowadays, but oftentimes they're the hardest to follow through with. As we start this New Year, it's time to set new goals that will truly improve your health and be worth keeping for life. Take a look at these five healthy new year's resolutions to try this year!
Healthy New Year's Resolutions
Be more active
Before you purchase a gym membership or buy expensive workout equipment, consider if that will be an activity that you will actually enjoy for the long haul. Many people start out strong at the beginning of the year, but the habits don't stick in their routine. Instead, find an activity that you like to do and are willing to fit into your schedule. For example, think about something like taking a 30-minute walk, jog, or bike ride after work. Then, commit to doing it a few days a week rather than every day. Starting small and then working your way forward to longer/harder activities is more attainable and realistic for beginners.
Get better sleep
Sleep impacts every facet of your life. If you don't get enough sleep, it can lead to some serious consequences. In fact, studies have shown that a lack of sleep is more likely to lead to obesity, heart disease, and depression. With that in mind, it's crucial to give yourself enough time and a comfortable environment to get a good night's sleep. Here are some tips for better sleep from the CDC:
Go to bed at the same time every night, and wake up at the same time every morning
Make your room dark, quiet, and a comfortable temperature
Remove electronics from the bedroom and avoid using them before bed
Avoid caffeine, alcohol, and large meals before bed
Get daily exercise so you can fall asleep more easily at night
Cook well-balanced meals
Do you cook at home? If not, take the time to do so this year. Research shows that those who cook their own meals at home have a more wholesome diet and are in better shape than those who consistently go out to eat. Once again, it might be helpful to start small – make one meal a day and then work your way up. As you plan your meals and go grocery shopping, choose less processed, sugary foods and go for whole, nutritious foods. Adding more fruits, vegetables, and whole grains to your diet will decrease your risk of certain diseases and illnesses. And, as we're talking about having a balanced diet, be sure to drink plenty of water. Health experts commonly recommend drinking eight 8-ounce glasses of water a day.
Spend more time outside
Want a resolution that requires no money and can be essentially done anywhere? Consider it done by spending more time outdoors. The fresh air and sunshine can benefit almost everyone. Simply taking a walk during your lunch break, going for a bike ride on the weekend, or even just sitting in the backyard or at the park are all ways to work the outdoors into your daily life. Use this time to unplug from your phone or computer. Cutting back from these devices and soaking in nature will boost your mood and enhance your memory.
Practice self-care
Life can get hectic sometimes and taking care of yourself may be the first thing you put on the back burner. It's important to set aside time every week to indulge in some self-care. This could be taking a bubble bath, attending your favorite yoga class, or spending time in nature. By investing in "me-time," you're allowing yourself to be more present the rest of the week. This is your time that you can sit back, relax, and be with your thoughts. Doing self-care and being more mindful will help you feel more content with your everyday life.
Closing Thoughts on Healthy New Year's Resolutions
While most New Year's resolutions are only kept for a short period of time, these healthy resolutions are sustainable ways to improve your health for many years to come. To ensure that you maintain your health, meet with our qualified providers at Prairie Orthopaedic & Plastic Surgery, PC in Lincoln, NE. We are equipped with a highly skilled team of practitioners and physical therapists who are committed to offering excellent orthopaedic care. To schedule a consultation, please call 402-489-4700.