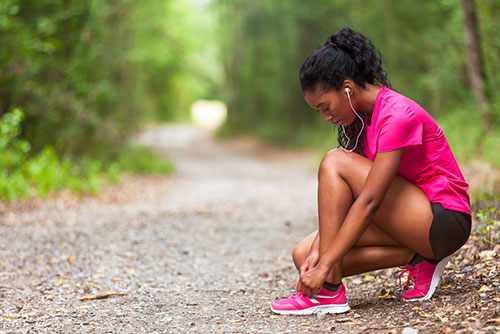 When the weather is nice outside, you probably want to say goodbye to the indoor equipment at the gym and do an outdoor workout. Exercising outside might not seem that hard, but there are a few things you will want to keep in mind so you can have a safe, fun, and productive workout.
Check the Weather Before You Leave
When you are exercising outside, there is no roof to protect you from the weather. There is also no air conditioning to help you stay cool. Look at the weather before you start, so you can dress properly and protect yourself.
For example, if it is going to be clear and sunny, you will need sunscreen, even if it is not hot outside. The UV rays will affect your exposed skin. Look for sunscreen with an SPF of 50, and apply it to all areas that are exposed to the sun. There are many kinds of sport sunscreens that will keep working when you start to sweat.
You might also want to have sunglasses or a hat. This can protect your face from the sun and keep the glare out of your eyes. If you have long hair, then a visor can also keep your ponytail tight and off of your face.
Bring Food and Water
When you are exercising outside, you do not have vending machines or water fountains right there. Depending on how long your workout is, you might leave a snack or water in your car or take it with you. You might take a water bottle in a case with a pocket for some nuts or a granola bar.
Wear the Right Footwear
If you are switching to outdoor exercise, this is the perfect time to switch out your footwear. You might have more miles on your current pair than you think. It is a good idea to change your shoes about every 300 to 500 miles, whether you walk or run. Unless you have recently gotten new shoes, now is a good time to switch them up.
Exercise with a Buddy
Exercising outside is more fun when you are with a friend. They can help keep you accountable if you would rather sleep than do a workout. Set up a weekly time for you and your exercise buddy to do exercises or run at the park.
If working out with a friend helps you, then you also might want to look for community workouts. There are many clubs you can join that will encourage you to get outside. This will help you meet more people, and you might find yourself hanging out with them afterward.
Try New Exercises
Consider learning bodyweight exercises. You can get in a great workout without having to bring any extra equipment with you. Try squats, planks, scissor kicks, lunges, and pushups. You can find many different kinds of exercises online that will work great outside. That will help you exercise your body in a new way. Of course, you can also get some smaller weights and keep them in your car until you are ready to use them.
Some parks even offer exercise equipment. There might be stretching stations, exercise machines, and pull up bars. Many parks will mention on their websites if this kind of equipment is offered.
Closing Thoughts
When the weather is nice, heading outside is a great way to work out and clear your mind. Look for a local trail system, park, or even your neighborhood for your next workout. With a bit of patience and planning, you will feel great. For more helpful tips and information on exercise and common injuries, please visit our website at https://www.prairie-ortho.com/.